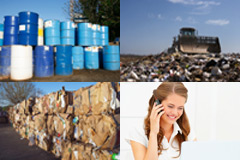 A complete waste management service is available for those customers who require the help of professionals in the waste industry to take away the burden of ensuring all their waste is being disposed of via the most cost-effective and environmentally friendly route.
This service would save your company both valuable time and money.
We will continually source outlets and manage operational service providers to ensure compliance with current waste legislation and enhance recycling options whenever possible, on an on-going basis.
We will always ensure that the customer is taking advantage of the best option available and complying with their internal environmental/quality policies.
Our waste management service would typically consist of the following:
– Waste audit completed
– Options evaluated, disposal/recycling
– On-site operations reviewed
– Transport modes considered
– Cost-effective solutions arranged
– Implement changes agreed
– Monitor project/contracts put in place on an on-going basis
Please contact us for more information.