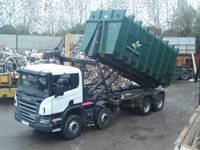 All modes of transport and numerous waste collection options are available for our customers.
We can provide you with a regular service, a scheduled collection or you can just give us a call when you're ready, whichever better suits your requirements.
Container Hire
– Skips are available in sizes 4yd – 20yd
– Roll on/roll off containers are available in sizes 15yd – 40yd
Enclosed and lockable containers are utilised for asbestos collections, and for other specific contracts.
For commercial and industrial general waste collections, we can arrange the supply of REL and FEL containers, along with 1100ltr and 660ltr wheelie bins.
– REL and FEL containers are available in sizes 8yd – 16yd
Drums and IBC's can also be supplied for hazardous waste collections, including oily rags and waste electricals.
Transport Options
Palletised and bulk bag collections can be arranged on either an artic or curtain sided vehicle i.e. bagged foundry sand or baled cardboard. Or for smaller collections i.e. bagged asbestos, a van could be a more suitable option.
Tanker collections for liquid waste , is also a service we provide.